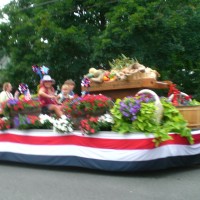 As I promised this blog post will address how your business whether it is a nursery, farm, or garden center can participate in a local parade.
At first you may not be able to afford the time, money, or effort that a huge float may take. Don't worry. Here are a few ideas from barley no cost on up for you to pick from. You can even work your way up to the fancier floats as time goes on.
This can range from something simple by just riding your tractor in a parade.  In my town tractors are one of the favorite things that the farmers do. These go from very small ride on mowers to HUGE mammoth sized tractors of all models and makes. Our town used to have an antique tractor event at our town field that brought a lot of folks in to see them.
Sometimes folks ride or walk along side their horses or oxen. Kids especially like to see the small ponies. Although as a kid and even now as an adult, I like to see how huge the work horses are and feel the reverberation of their hooves on the pavement as they go by. I have seen many different animals in my town's parade and the Foxborough Founder's Day Parade. Even alpacas and llamas could be an interesting addition.
If you have the resources, you can put together a gorgeous flatbed all decorated with a amazing show of fruits, veggies, flowers, trees, and so on… I have seen this done by farm stands, nurseries, garden centers, farmer's markets, landscapers, garden clubs, and more. These can be small and simple to so chock full of plants that you wonder how they could manage to fit so many on the float that they look like they should be in the Tournament Of Roses Parade; to those that don't know about that one, it is a professional parade sponsored by corporations and others with hugely deep pockets to spend all kinds of money and planning on. BUT that is what advertising is all about sometimes.
If you want the kids to remember your farm, garden center, or nursery, stock up on tons of candy to toss out during the parade. Portion it out so you do not run out before the end of the parade. My strategy with my kids and granddaughter has always been to sit at the beginning of parades when they toss out the most candy! One thing to remember is that those kids will remember your farm, nursery, garden center, landscaping business, etc. until they are old and gray and will be your best customers for their long lives. The small investment into the candy will pay you back many times over throughout the years. Think of the candy as your advertising investment for the future of your garden center, farm, nursery to get more customers.
Send pictures of any parade participation that you do to Anne@SuperStarGardening.com.
Tags: attract more customers, farming, farms, garden centers, garden nurseries, how to market your business, how to market your farm, how to market your garden center, how to market your nursery, marketing, marketing your business, master gardeners, more customers, more farm profits, more garden center profits, more nursery profits, tree nurseries, ways to increase your profits