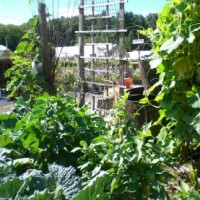 Over the next few blogs we will be chatting about a variety of ways to help your garden center, nursery, or farm customers visualize what their own gardens or future crops could look like and various things they can do with their gardens.
To do this you can set up demonstration sites (demo sites) which range in size from 2 feet by 4 feet on up to 12 feet by 12 feet. These sizes can be custom fit to the space availability that you have around your property and what you want to achieve. If you can construct these demo sites in a prominent spot, they can engage your customers and entice them to come back over and over again throughout the seasons to see what is going on with the demos; your customers can then take these ideas back home to put these new ideas into action in their own gardens.
You can reap more benefits as well. Just by getting your customers to come back repeatedly, you have the chance to make multiple sales. You can introduce folks to old and new innovative products or plants or unique ways to use items that they may want to buy from you.
So for now, give some serious thought as to where you could locate some extra beds and what size would be right for your garden center, nursery, or farm.
Tags: attract more customers, farm stands, farms, garden centers, garden nurseries, Get More Customers, how to market your business, how to market your farm, how to market your garden center, more customers, nurseries, plant nurseries, tree nurseries, ways to increase your profits