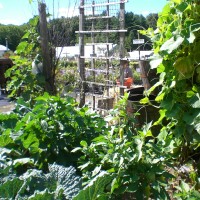 For those of you with a garden center, farm, or nursery and want to hold some crafts related workshops, check out some of the ideas on my Pinterest boards or at http://www.pinterest.com/superstargarden/.
I have one board Amazing Crafts For Gardens that is geared more towards adults; another is Crafts For Kids To Make For Gardens;
The other is  Kids Growing Gardens. On this board I am collecting fun ideas for kids to use in their gardens. There is no better way to keep youth interested than by making it fun! I like the 2 raised bed ideas. One out of hay bales so they can sit on the edges or even have the possibility of extending the season by covering it in the spring as a cold frame or in the fall with hoops and plastic to extend the season by protecting the mature plants from the frost. The other raised bed is made with cement blocks because kids can grow things in the holes like strawberries hanging down.
One is geared towards projects called DIY Ideas For Gardening And Farming. Another is Productive Farming; this is more related to improving the financial standing of farms, garden centers, and nurseries. It has some of the ideas on things that will make you stand out from your competition, improve your marketing, and allow you to put more money in your pocket. I will be adding more ideas later.
Go check these out now. And check back there from time to time to see what I have added for even more ideas for you to use for yourselves. I will be adding some public boards so that folks can post on them with their own ideas or others that they can repin there. I think that they will be Farming, Garden Centers, Nurseries, and Kids. So keep an eye out.
Tags: attract more customers, farm stands, farming, farms, garden centers, garden nurseries, Get More Customers, how to market your business, how to market your farm, how to market your garden center, how to market your nursery, marketing, marketing your business, more customers, more farm profits, more garden center profits, more nursery profits, ways to increase your profits