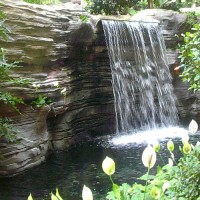 A good thing to get your customers thinking about is how they can improve their gardens or yards. Of course, you want to steer them to those special ways that will help your business as well.
Think about what could benefit them when they are either wandering around their yards or maybe while they are just sitting relaxing. Tell them that they should create a special 'refuge' for themselves – Something that they could enjoy and it would make them happy to have in their yard.
One such thing could be a small pond. It can be relaxing to watch as well as interactive. A small fountain or waterfall provides pleasing sounds to listen to and healthful ions that are released from the water spray. If it is stocked with fish, it is fun to watch how active they are when it comes to feeding time when they burst through the surface of the water or just slurp down those pellets.
Many times other kinds of wildlife will be attracted to the water just by the sound of it. Frogs, turtles, lizards, salamanders, snakes, birds, mammals of all sizes, and a variety of insects can create even more action for them to watch.
You can help them pick out a variety of plants that do well around such a pond. Remind your customers that it is not only the water plants that enhance the ponds, but the surrounding area as well. This could mean the addition of tall grasses, trees & shrubs, stones from gravel to huge boulders along with colorful flowers to attract the eyes of humans, birds, and butterflies and so much more.
This is especially great to teach kids about nature and science of biology, botany, etc. You can even put up special signs to educate kids [and adults] to what they are looking at.
If they have small children, just having a zero depth 'pond' can also bring in such a variety of wildlife and plants to still give the illusion of a more substantial pond without the fear of drowning.
It can be easy to convince them to add a few benches around in specially created spots which allow views of different areas of the pond. Some could be for active watching while different styles of benches, chairs, or lounges could be for a more spa-like atmosphere.
Don't forget about items for hardscaping like statues, sculpture, arbors, seating, tables, large & small urns, etc. Then they can use their imagination to add some type of paving material too to set some of these items on.
Even the addition of interconnecting fountains or 'streams' and waterfalls are something they can install now or aspire to for future add-ons from later in this season or in future years.
All of these things can keep them coming back to you for supplies and advice. So be sure to keep a well stocked supply of those consumable items that they will need to replace over and over again. What better way is there to get your customers to return to you over and over. Don't forget to hold classes on the care of all of these aspects of owning and maintaining a pond – special plants – fountain, waterfall, pump, & filter care – varieties of fish that work best for your area/climate and their care, etc.
One other little addition can bring customers back over and over and even help reduce your cost of maintaining those fish is to have a bubble gum style dispenser filled with fish food where your customers have to pay for the food; supply little paper cups to hold the food in also. Fish hatcheries use this through out their layout. Kids love it and nag their parents to go back. Wouldn't you want those kids to tell their parents to go to your place 'just to see the fish', but more than likely they will see something more to buy from you too – both kids and adults.
Have several areas where you have demos of ponds and their surroundings. Change them up from time to time to keep those customers coming back to see what is new and different.
As you can see, just by promoting having a small pond, the possibilities of getting your customers to return to you are almost endless if you work it right!
Let us know your thoughts on these ideas and how they work for you.
Tags: attract more customers, garden centers, garden ponds, Get More Customers, home ponds, how to market your garden center, how to market your nursery, koi, koi ponds, more garden center profits, more nursery profits, Nurseries attract more customers, plant nurseries, plant nursery, ponds, tree nurseries