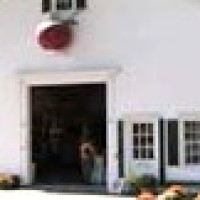 That's right DARE to be DIFFERENT … Be different from your other local farms, garden centers, or nurseries!
D…Stands for both Dare & Different. You have to be DARING to excel and have the courage to stand out from a crowd and stand by your outrageous ideas. If you are similar to your neighboring businesses, then it doesn't matter which business a customer goes to. They will just go to the one that is closest to their homes. So be DIFFERENT. (I will talk about my personal favorite garden center/nursery/greenhouse that is over an hour away from me and why I travel all that way in another up-coming blog. So watch for it!)
I know for some kids it could be a giant thing that they are attracted to. As a kid I used to haunt my parents to bring me to the Big Apple in Sheldonville MA (part of Wrentham). I still go there 60 years later to show my granddaughter the big apple that hangs over their barn door; that place is over 60 miles away and takes over an hour to get to.
Talk  to your family, workers, and friends to see what kind of crazy ideas you can come up with. Sometimes the wilder ideas get the most attention…so DARE to be DIFFERENT!!!
A…Stands for Act. Go take ACTion now. Go put up that crazy thing NOW!
R…Stands for Reaction. See what kind of REACTION you get. Ask your customers what they think of what you did…ask their kids too.
E…Stands for Excitement. If it is working right for you, it will generate a lot of EXCITEMENT around your new creation. Post pictures of this on your website. When people come to see it, they will take pictures to show their family and friends. Have a contest and give out some prizes. Get them to post their photos online on FaceBook, Instagram, Pinterest… Have these folks link the pictures to your farm, garden center, or nursery's FaceBook page.
Tags: farming, farms, garden centers, garden nurseries, gardener, gardeners, Gardening Centers, Get More Customers, how to market your business, how to market your farm, how to market your garden center, how to market your nursery, landscapers, marketing, marketing your business, Marketing/Advertizing, master gardeners, more customers, more farm profits, more garden center profits, more nursery profits, Nurseries attract more customers, tree nurseries, ways to increase your profits