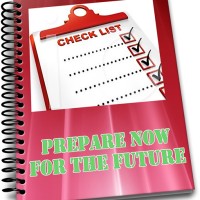 Use your off season's down time to prepare for the future of your business.
When it is the off season, take 15 minutes or so to gather your thoughts and ideas of where and how you want your business to head. You can do this by yourself or with a group of your business associates whether they are family, friends, or employees.
Grab a notebook and a pencil to jot down your ideas. (I like to use pencils because I can erase to allow for a cleaner slate as I think about my ideas.)
First write down where you want your business to be one year from now, two years, five years, and ten years down the line. This does not have to be very detailed; just rough ideas that you can polish up later. Take one page of paper and label it with year one at the top. and where you want to be.
Then sit down and brainstorm as many ideas as you can concerning things that you want your business to do, marketing ideas, things that maybe your competitors do that might help you, anything out of the blue… These ideas can be as wild and crazy as you can think up or very conservative ideas too. After you write all of your ideas, go over them and start to pick out the ones that will work the best for you to bring you where you want to be at the end of this year.
Now go do the same for years two, five, and ten.
Ask yourself and others, do these ideas flow well together or are they disjointed and all over the place. If they do flow well, are there more ways to make things even better? If the ideas are all over, how can you tie the ideas together so that they will flow well to end up with your final result that you are aiming towards.
See what things you can complete in the off season to lessen your load during your busy seasons. Maybe you need more storage space, draw up the plans and do some construction under cover if you have nasty weather until you can get outside to raise the storage building; this could be getting posts and beams ready and fitted together for your walls or tubes ready for a tunnel style of greenhouse. Other items could be constructing  towers for climbing plants to building sections of fencing.
There are other things you can build in the off season to have a supply to sell when you have customers coming in and buying other things. These can range from the simple things like birdhouses and bird feeders to picnic tables and benches that you can make and stock up to sell when you are ready. Even take on custom projects for people to get ready for them in the off season; this could be something like a certain sized gazebo or table to a gorgeous wooden game board.
Tags: attract more customers, farm stands, farming, garden centers, garden nurseries, gardeners, how to market your business, how to market your farm, how to market your garden center, how to market your nursery, increase profits, increase traffic, marketing, marketing your business, master gardeners, more customers, more farm profits, more garden center profits, more nursery profits, nurseries, tree nurseries, ways to increase your profits