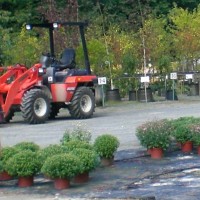 If you are looking at no cost or low cost ways to spur your employees morale, try some of these ideas.
Hold a festival for your employees and their families.
You can use most of the produce from your own fields. Maybe you, your family, your employees' families, or your friends may volunteer to cook their family specialties for everyone. Figure out what types of protein dishes you can offer; this depends on the number of meat eaters and vegan/vegetarians who are present. Feeding a crowd may be easier if you already feed your crew from the produce off your land daily. (If you don't do this daily, maybe doing it once a week will produce more teamwork.)
If there is a mobile food truck in your area, you could arrange for them to cook and serve the food. Some folks have portable pizza ovens where everyone can make their own pizza. If you can afford it, have an ice cream truck come in and hand out free ice cream novelties to everyone.
Have games and prizes for everyone. Oriental Trading Company is just one place to get little prizes very inexpensively. Dolly Parton is well-known for her charitable giving of books from small tots on up which increases the education value in her area; I went through Pigeon Forge a few years ago and their high school had an amazing number of National Merit Scholars just because of Dolly's influence. Give out prizes to everyone; this makes everybody feel good.
You can do special surprises throughout the year.
Once a week or once a month, bring a special snack out into the field for those picking produce. Maybe a basket full of empanadas, sandwiches, doughnuts, assorted cookies, etc. I do hope that you supply folks with cold beverages as they work for you; that is one of the most appreciated things and keeps your employees hydrated and healthy. Whether you supply cold drinks or your employee does, the money eventually comes out of your pocket, so get extra credit for being a great boss.
If you have groups of employees from different farms or different areas like the office, shipping and receiving, maintenance, etc. have contests like team building races between these groups and special prizes at the end, so all of your folks benefit and will work harder for your business. These can turn into yearly 'battles' or competitions for fun. Depending on how you arrange these contests, you can be the one that benefits the most because you can end up giving your employees very valuable training in a fun way!
Of course, cash is always king. Give a little bonus from time to time. Give a special reason like it is your birthday and you wanted to give everyone else a present too. Or it could be because it is Earth Day or you had the best harvest in the farms history or you made the most sales in your nursery or garden center history.
Plan out these surprises. Don't make them predictable. That way the surprises should be appreciated much more, and your farm, nursery, and garden center will have a much better atmosphere with your happy employees.
Tags: farming, farms, garden centers, garden nurseries, gardener, gardeners, Gardening Centers, Get More Customers, how to market your business, how to market your farm, how to market your garden center, how to market your nursery, landscapers, marketing, marketing your business, Marketing/Advertizing, master gardeners, more customers, more farm profits, more garden center profits, more nursery profits, Nurseries attract more customers, tree nurseries, ways to increase your profits